Powered By Darren Smith Painting
Whether you are after a new look for your warehouse, need non-slip commercial epoxy flooring or fresh industrial floor coating, Mackay Epoxy Flooring can tailor flooring uniquely to your requirements.
Mackay Epoxy Flooring is a locally operated business partnering with Darren Smith Painting with years of experience bringing out the beauty of countless flooring surfaces for our commercial, industrial and residential clients. We are surface preparation and epoxy coating experts who enhance your floors with a shining layer of quality that protects and decorates. With the use of the most advanced epoxy flooring capabilities, we have the power to bring any surface to life.
Our focus is on providing high-level services using the finest quality epoxy flooring materials. We understand the need of today's busy working environment. For this reason, we are able to carry out epoxy floor installations over the weekend or through the night to ensure minimum disruption to your workplace.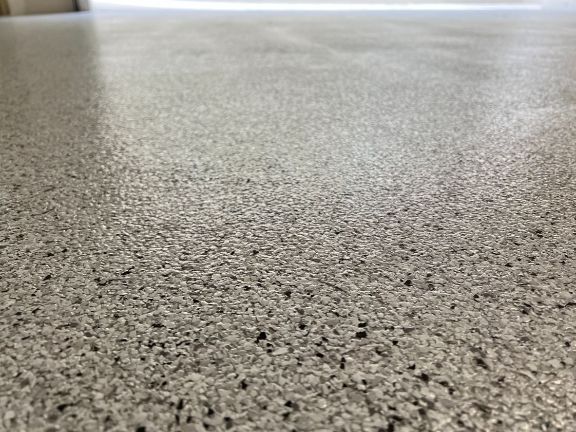 An epoxy floor is made of a combination of resins and hardeners. When these are mixed together, they cause a chemical reaction resulting in rigid plastic material of tightly linked cross-polymer structures. The material can bond with the base layer to create a resistant and durable flooring surface.
We are specialist epoxy flooring Mackay installers offering superior and first-class results. Thanks to our experience and knowledge, we have come up with a seamless service that not just meets your needs and expectations but goes beyond.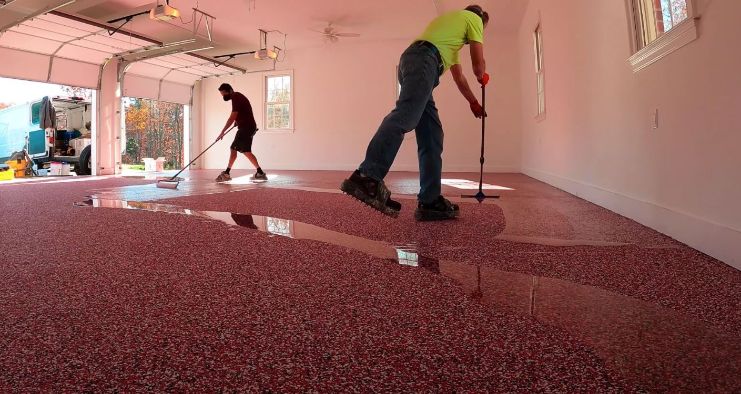 Incredible Benefits of Epoxy Flooring
Our premium Epoxy floor coating Mackay services provide long-term value and help you avoid a number of problems associated with performance flooring like erosion, cracks, dirt build-ups, eroding joints and more. Epoxy flooring solutions have a considerable measure of benefits, and some of them are –
Epoxy flooring bonds seamlessly with any flooring surface creating highly durable and quality surfaces that will last for many years to come. Epoxy flooring is quite strong, resistant to wear and tear, sudden impacts, high temperatures and even fire, making it perfect for areas with high foot traffic.
Many people choose epoxy floors for its aesthetic appeal. We can infuse new life into old and tired floors creating an attractive and gleaming flooring surface. There are many different colours and textures to choose from that match the rest of the colour scheme.
Epoxy flooring is much more forgiving than any other flooring type. It can not only bear the weight of traffic on it but allow for smooth moving of machinery over it, resulting in lower maintenance costs.
Epoxy floors can easily withstand exposure to chemicals without damaging them in any way. It is thus ideal for floors in industrial plants, pharmaceutical manufacturing facilities and manufacturing facilities where there is regular exposure to different harsh elements.
Epoxy flooring allows you to create certain designated zones with different colour options to choose from. It makes epoxy flooring ideas for walkways, forklift paths and loading bays that need to be marked to ensure safe movements of people and vehicles.
Epoxy floorings are easy and need little time to be installed. It means there is no need to shut down your business or stall production for a long time, helping you save time and money.
Epoxy flooring does not have any pores or crevices, making it much easier to clean and maintain. All you need is warm soapy water to clean the epoxy flooring and keep it looking new.
Since epoxy flooring does not erode or flake, they do not pollute the environment making them an eco-friendly flooring option. Its installation does not leave behind less waste than other types of flooring.
If you are the kind of business that values the most durable and safest protective epoxy flooring system in the market, then we can help you. Our team of professionals can install your new protective and attractive epoxy flooring
Epoxy Flooring Can Be Used in Different Types of Property – Inside & Out
Our Epoxy floor coating Mackay services are great for any type of property. We have worked on a wide range of properties, including shopping centres, restaurants, schools, hospitals, sports facilities, warehouses, manufacturing plants, office buildings, laboratories, car workshops, garages and more. Our commercial flooring solutions can be customized to meet the unique needs of our clients, with a wide range of colours, designs and types.  
Architects and designers love epoxy floors because of the many benefits it offers apart from various choices of finishes. Epoxy floors are sanitary, safe and slip-resistant, ensuring maximum productivity and less downtime in your commercial space.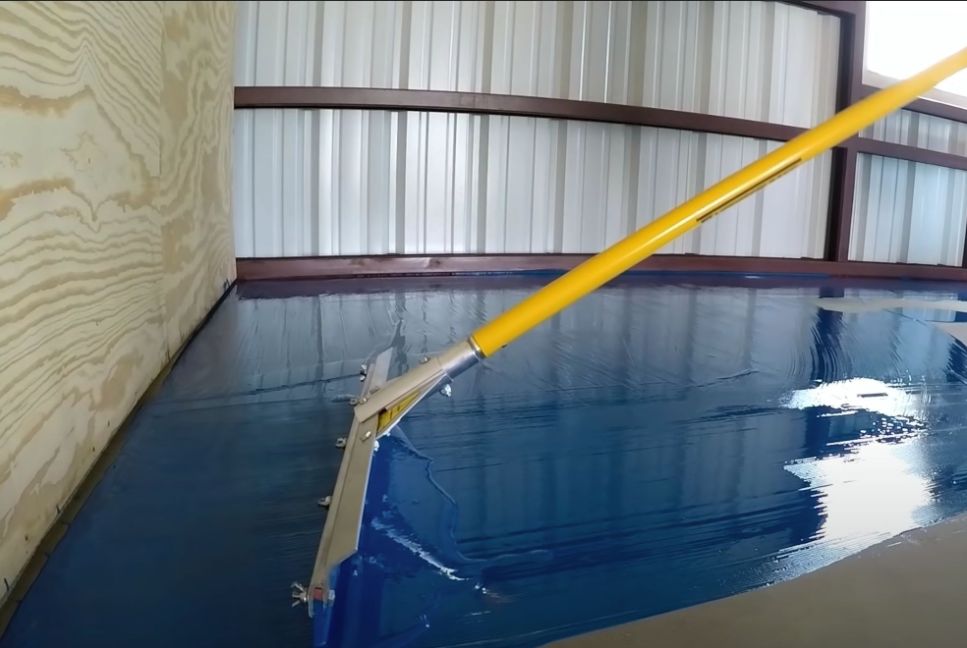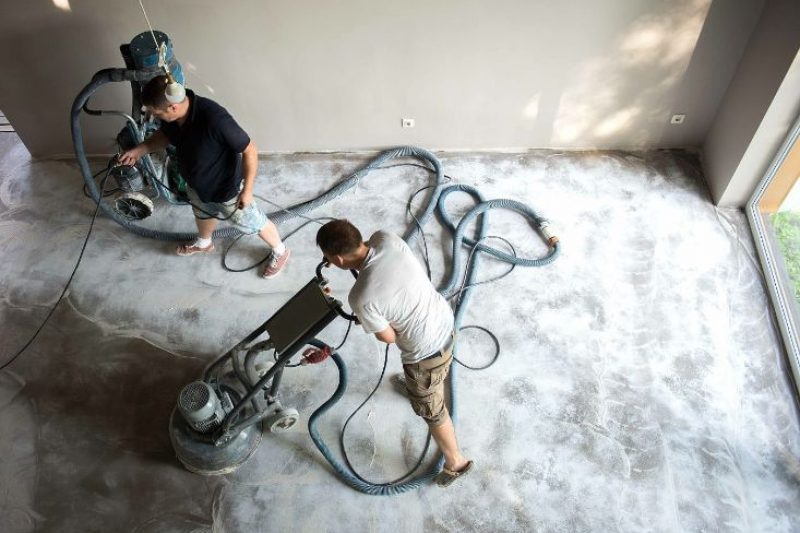 Epoxy floors are durable and exhibit all the characteristics needed for a tough industrial environment. It can withstand heavy traffic, chemical spills and adheres to OHS requirements.
Epoxy finishes are widely used in homes. Marble and metallic effects allow homeowners to create a stunning statement look. It is also used in kitchens, bathrooms and laundry areas as they are hygienic and easy to clean.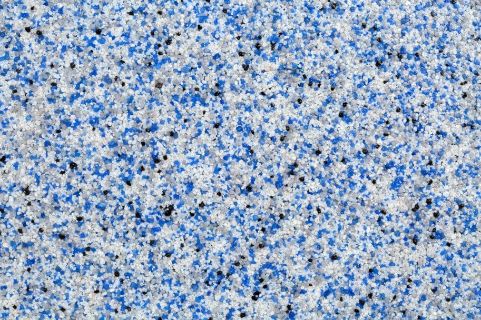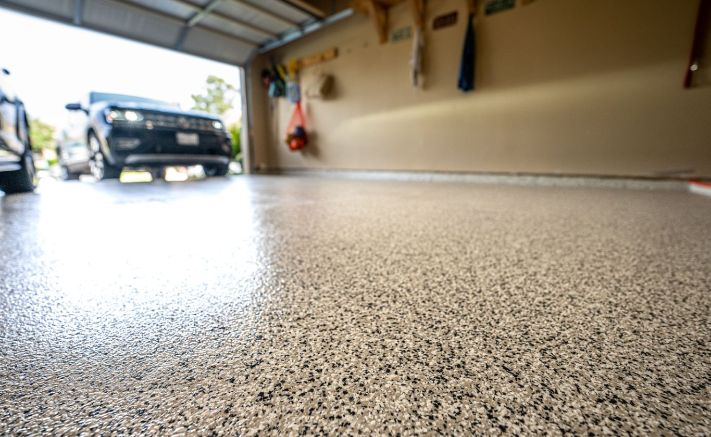 Only a few flooring finishes can efficiently handle outdoor elements. When slip resistance is added to it, they are the perfect floors for pool areas, driveways, patios, footpaths and even staircases.
Epoxy flooring is a cost-effective and durable choice for garage floor resurfacing as they help protect concrete floors.
Our experienced team will advise you on the best and the most cost-effective solutions for your needs. We provide a full range of services and can help you with a small residential job right through to large scale industrial solutions. We cater to all budgets and provide practical, cost-effective options.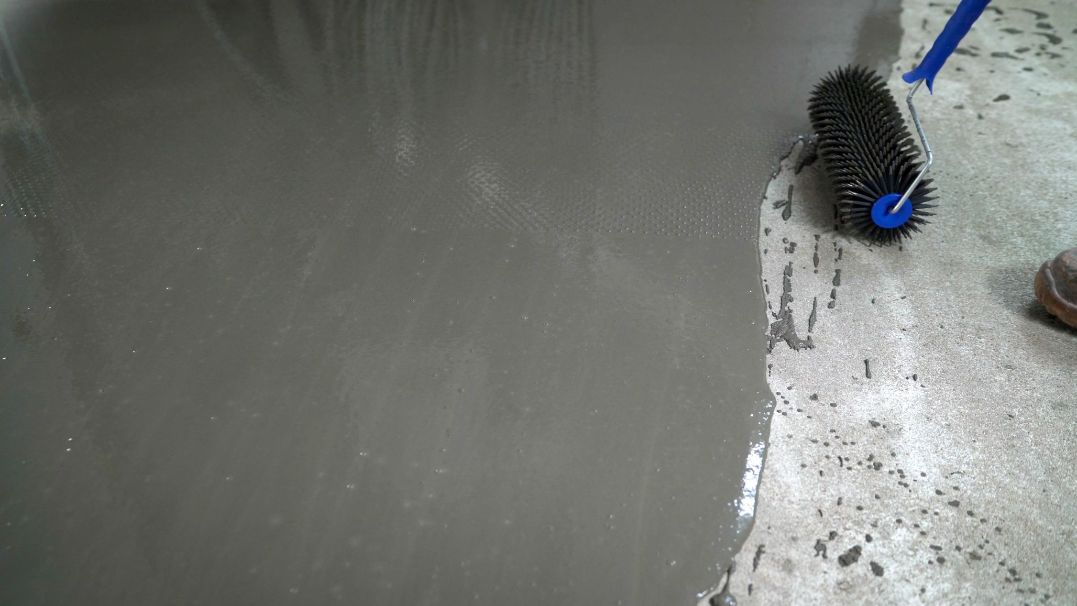 Picking the right epoxy floor installers is crucial. You need to work with someone who can offer expert advice with minimal disruption.
We are based in Mackay and serve clients in the nearby suburbs, including 
If you reside in a suburb not mentioned above, do reach out to our friendly team to know how we can help you. We service surrounding areas as well.
We take our company and your needs very seriously. We work efficiently and quickly to minimize disruption and downtime while ensuring high standards of customer service. Your epoxy flooring will be beautiful, installed quickly, and guaranteed to last!
If you would like a free no-obligation quotation or need more information, contact our professionals today! We are happy to do everything we can to ensure your experience with us is a great one.
Frequently Asked Questions
Epoxy is not recommended to put over existing coatings as it can inhibit the binding of the epoxy coating to the concrete floors. We strip and clean the existing coatings using high speed grinders.
While UV light will cause some coatings and paints to fade, we use UV protectors on all our epoxy floors to minimise the damaging effect of sunlight to its finish.
We fill major holes and cracks with epoxy resin paste, making it the most durable patching system for concrete surfaces.